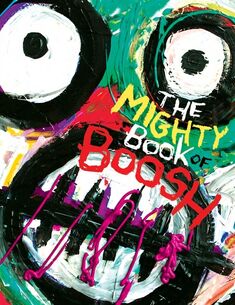 Incredibly funny, visually dynamic, surreal, musical, wildly creative - The Mighty Book of Boosh is 100% original artwork, writing and backstage photos by Julian Barratt and Noel Fielding as well as other Mighty Boosh characters. The book was art directed by Dave Brown (aka Bollo).
Content includes:
An extract from Howard's jazz detective novel Trumpet Full of Memories
Vince's Christmas Toy story
Bollo's letters to Peter Jackson
Bob Fossil's postcards from 'Nam
A new Charlie story
Ol' Gregg's watercolours
Naboo's guide to black magic
Dixon Bainbridge's Turkish Challenge
Bruno Mindhorn's poetry
Crimp lyrics and much, much more
Creative Review published a sneak preview of the book in late August 2008.
The book was subsequently republished as a small-format paperback under the title The Pocket Book of Boosh. The content is basically the same, the main difference being that the Pocket Book lacks the "bingo call"-style page numbers. Other things missing are the introduction by The Flighty Zeus (and the photo later on of them as future sailors), Neon and Ultra's tour tips, some Moon-related artwork and photos of Noel Fielding filming the Moon sequences, the mock newspaper front page, and the rather splendid photo of Dixon Bainbridge. (Also, as the pages aren't numbered, there's no contents list or index.) However, it does replace them with a lot of new photos and artwork. And the Pocket Book comes in an actual pocket, provided the shop hasn't lost it at some point.