Series Two of The Mighty Boosh first aired between July and August 2005.
The storyline of Series Two follows Vince Noir and Howard Moon with Naboo and Bollo as they leave the (relative) safety of their flat which they now share together, and go out on adventures which usually lands them in situations of danger from strange monsters and characters. While they are often endangered by these people, they often require the help of each other and usually resolve the situation. Now they have left the Zooniverse, they do not see much of Bob Fossil or Dixon Bainbridge, however they are introduced to the Board of Shaman who are Shamans along with Naboo but often restrict his magical powers and punish him for Vince and Howard's mistakes with Naboo's magic.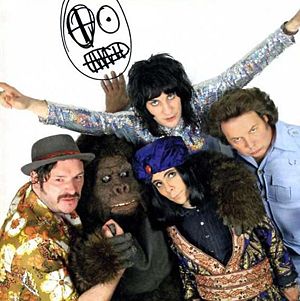 Full list: Category:Series 2 Cast
Supporting Cast
The complete second series was released by the BBC in Region 2 on February 13 2006. Special features were included with the 2-disc DVD set; Boosh Pilot, Boosh Publicity, Making of Series Two, Episode Commentary with Julian Barratt and Vince Noir, Photo Gallery, Outtakes, Deleted Scenes and Sweet.