Series Three of The Mighty Boosh first aired between November and December 2007.
The storyline of Series Three follows Vince Noir and Howard Moon as they spend their time looking after Naboo's shop, the Nabootique while Naboo and Bollo are away, usually to go DJing or on a Shaman-related trip. This usually ends with Vince and Howard getting in a dangerous situation which, to Naboo's annoyance, causes Vince or Howard unable to attend the shop. Although usually Naboo and Bollo come back to help out the situations, Vince and Howard are now often left to sort out their situations on their own until Naboo and Bollo return.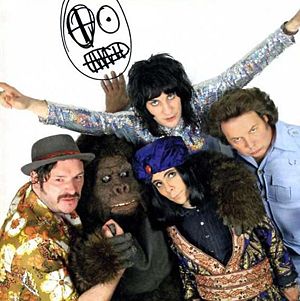 Full list: Category:Series 3 Cast
Supporting Cast
The complete third series was released by the BBC in Region 2 on February 11 2008. Special features were included with the 2-disc DVD set; Making Boosh 3, Boosh Publicity, Deleted Scenes, Mint Royale Promo, Boosh Music, Outtakes, Boosh 3 Trailer and Audio Commentaries.