Series One of The Mighty Boosh first aired between May and July 2004.
The storyline of Series One follow Vince Noir and Howard Moon as they work as zookeepers in the Zooniverse which is owned by Dixon Bainbridge and managed by Bob Fossil.
Every so often, something will happen which endangers the animals or staff which requires Vince and Howard to sort it out, sometimes because Bob Fossil orders them to and sometimes because they feel it is a necessary cause. They often also need the help of Naboo, the zoo's psychic shaman who will use magic to assist their success where Vince and Howard's lack of knowledge means they will not be able to do anything themselves - which is usually the case.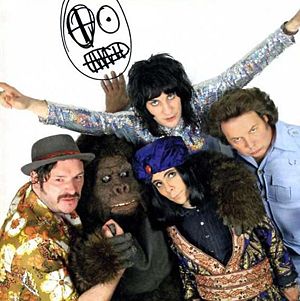 Full list: Category:Series 1 Cast
Supporting Cast
The complete first series was released by the BBC in Region 2 on 29 August 2005. Special features were included with the 2-disc DVD set; The Making of Series 1, Inside the Zooniverse documentary, History of the Boosh documentary, Boosh Music, outtakes, photo gallery, audio commentary on "Bollo", "Tundra", "Electro" and "Hitcher".