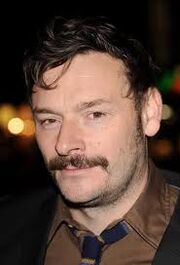 Julian Barratt Pettifer
(born 4 May 1968) is an English comedian, Music Producer and actor.
Early life
Edit
Barratt was born in Leeds and studied at the University of Reading.
The Mighty BooshEdit
Barratt is best known for playing Howard Moon opposite Noel Fielding's Vince Noir in The Mighty Boosh. Barratt is also an accomplished musician (in a wide range of genres; he claims to be a jazz fusion fanatic - a passion he shares with Howard Moon), composing much of the music for the series, in an eclectic range of genres including rap, heavy metal and psychedelic rock. Julian lists Allan Holdsworth as the only thing he is interested in on his section of The Mighty Boosh official website.
Other television
Edit
Barratt co-starred as Dan Ashcroft, a frustrated writer, in the Channel 4 media satire, Nathan Barley, which also featured Noel Fielding as a deranged electronic musician. He appeared in the surreal black comedy series Asylum alongside Simon Pegg and Jessica Stevenson (writers and stars of Spaced). He also appeared in the infamous 'Freelance Scientist' commercial for the Metz alcopop Judder Ad. He appeared as The Padre in the spoof horror series "Garth Marenghi's Dark Place". He also starred in and was a writer for the 1998 sketch show "Unnatural Acts"..
Personal life
Edit
He and his girlfriend, fellow comedian Julia Davis, welcomed the arrival of their twin sons, Arthur and Walter, in summer 2007. [1]
Filmography
Edit
The Mighty Boosh Live (2006) – Howard Moon
Nathan Barley (2005) TV Series — Dan Ashcroft
AD/BC: A Rock Opera (2004) (TV) — Tony Iscariot
The Mighty Boosh (2004) TV Series — Howard Moon
Garth Marenghi's Darkplace (2004) TV Series — The Padré
The Principles of Lust (2003) — Phillip
The Reckoning (2003) — Gravedigger
How to Tell when a Relationship is Over (2003) — Him
Surrealisimo: The Trial of Salvador Dali (2002) – Rosey
Lucky Break (2001) — Paul Dean
Melbourne International Comedy Festival Gala (2001) (TV) — Himself
Peter Scott - A Passion For Nature(2007) - Narrator
Melbourne International Comedy Festival Gala (2000) (TV) — Himself
Sweet (film) (2000) — Stitch
(Un)natural Acts (1998) — Various
Asylum (1996) — Victor/Julian
2007 The Mighty Boosh won Best TV Show the Shockwaves NME Awards 2007
2001 The Boosh, first on London Live, then on Radio 4.
2000 Arctic Boosh won the Barry Award at the Melbourne International Comedy Festival
1999 Perrier nominee with Noel Fielding as Arctic Boosh
1998 Perrier Best Newcomer winner with Noel Fielding as the double act The Mighty Boosh
1995 Winner of BBC New Comedy Awards
External links
Edit
Community content is available under
CC-BY-SA
unless otherwise noted.